A kitchen is the best place to start with when you think of giving your home a new makeover. Renovating this space also increases the value of your property if you consider selling it at any time. It's not that difficult to upgrade your outdated kitchen to create timeless appeal.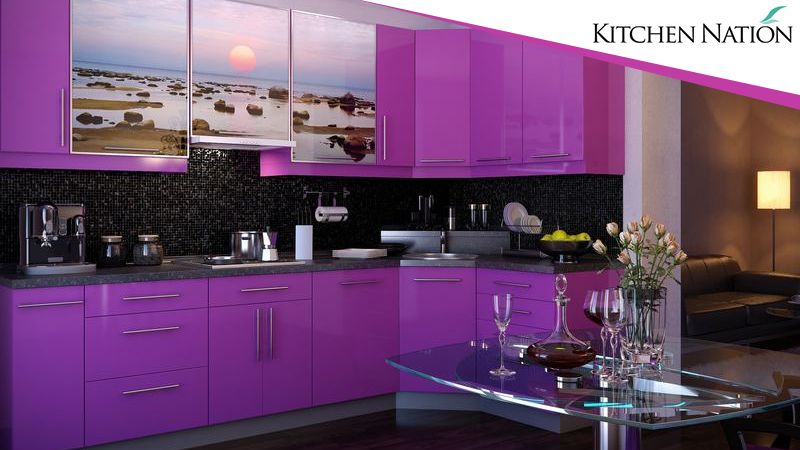 There are several ways homeowners can transform the look of their kitchen. Whether you want to incorporate traditional, transitional or contemporary elements, a few changes can help build your dream space. In today's blog post, we'll share some amazing kitchen design and decor ideas that can enhance both the aesthetic and functional appeal of your kitchen. Read on to learn more.
Paint It Violet
According to Pantone, Ultra-violet is a trending colour in home design. It provides a very elegant and luxurious feel to any space. Incorporate this beautiful purple colour into your kitchen to give it a trendy facelift. Paint your walls with this shade or create an accent wall to make your space stand out.
Add Wooden Counters
These kitchen countertops are currently very popular and can instantly add warmth to your kitchen. Wood has a timeless charm and can easily bring in an old-world luxurious appeal. There are a lot of options available in terms of materials such as Brazilian cherry, walnut, maple, oak, teak and bamboo. You can opt for butcher blocks if you're looking for a more functional piece.
However, make sure to consider a few things when investing in a wooden counter. You should apply mineral oil finishes to effectively protect it from moisture damage and stains. Treat it more like a tabletop rather than a cutting board to keep it in good shape for a longer time.
Use White, Blue or Grey Cabinetry
These colours are quite popular with homeowners these days. They are an excellent option to give your outdated space a beautiful contemporary touch. Bright white is versatile and can make your kitchen look more spacious, cleaner and luxurious. Light and dark greys work similarly and are ideal for making this area look trendier. Learn more about how to use grey to create a trendy kitchen. On the other hand, light blue kitchen cabinets incorporate a coastal style into the room, while dark blues are perfect for creating a formal style setting.
Install Ceiling Height Backsplash
Ceiling-height backsplashes can give a refreshing twist to the kitchen. They can be used to create a focal point or highlight a specific area of your space. Taking the backsplashes up to the ceiling can also help you brighten up the room and create a unified look. This style can also make the kitchen look more open by creating a visual break from other elements such as cabinets and open shelves. You can opt for classic tiles or oversized patterns to make a statement.
Create Easy Access
When designing a kitchen, the most important thing to remember is to create a space that balances or blends style and functionality. Focus on decluttering and organizing your items. In addition to open or closed cabinets, you can also utilize open shelves for additional storage. Read about some creative storage solutions to get a better idea of how you can design a more functional kitchen.
Take inspiration from these suggestions and transform the look and functionality of your kitchen. You can consult design experts to help you create your dream space. Contact Kitchen Nation at (905) 595-1211 for all of your kitchen renovation needs. We have more than 20 years of experience serving customers across the Greater Toronto Area.