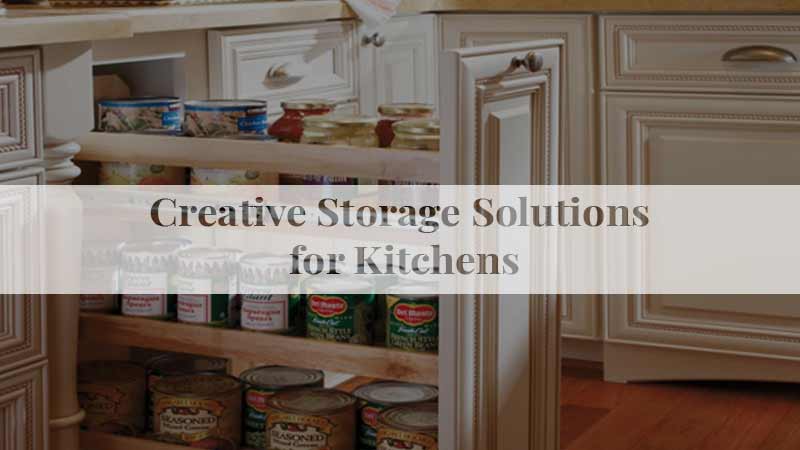 Kitchens are usually one of the most cluttered rooms in a house. Cookware, dishes, groceries, and cleaning supplies are constantly in use, moving from one place to another. Keeping all these items organized can be a great challenge.
The best solution to this problem is coming up with creative ways to use the space and dedicate a section for every kind of item. This can be easily achieved with custom cabinetry, specially designed to fit your kitchen and respond to your needs.
These are some creative ways to take advantage of every inch of your kitchen, keep your things organized and improve the accessibility of all areas and items using customized cabinets.
Install Trays, Shelves, and Dividers in Your Pantry
Food items are usually stored in the back of the pantry, leaving a big empty area in front and on top of them. You can maximize the use of this cabinet by adding trays, shelves and dividers. Each section can serve a purpose to utilize all the space available.
You can also use the sections to organize your groceries so they are always easy to find and reach. For example, you can add shelves to the door to hold canned foods and organize the cans using dividers.
Hide Panels Between Cabinets and Appliances
Sliding panels allow you to use the slim space between cabinets, appliances or walls. These racks can be used to store spices, cans, jars or any items that can be lined up in this small area.
When organizing the food in the panels, keep in mind how often and where you utilize them. For example, if your panel is hiding near the stove, it would be a great idea to store your spices in it. This way, the condiments will be easy to reach when you are cooking.
Get an Island with Storage
Kitchen islands are not only great for adding an extra surface to cook or eat, they can also store many items in a central place. The space under the island is wide and open, which makes it the perfect spot to store cookware and big dishes.
Some kitchen islands are completely open, while others are only open in the back or have doors to hide items. Make sure the island you choose matches the style of your cabinets and the general kitchen decor.
Add Drawers Under the Cabinets
Generally, kitchen cabinets are lifted a few inches from the floor, leaving an empty area underneath. This is a great hiding space for a drawer, where you can store flat pans, small baking molds, empty bags, or other items.
Keep in mind that the space under the cabinets is not easy to reach, so you should store only things that you use once in a while.
Store Items on Top of the Upper Cabinets
This idea might not be for everyone. But, if you are tall or have lots of items that you don't use frequently, using the space on top of the upper cabinets can be a great storage solution.
You can add baskets or trays to make the items easier to reach. However, the highest cabinets should always be reserved for things you only use for special occasions. Holiday dishes, moulds for birthday cakes and turkey roaster pans, are some examples of items that can be successfully stored there.
Utilize the Corners
The corners of the kitchen, where cabinets and appliances are installed, are always hard to reach. This can be solved by adding customized drawers and racks with sliding rails that move the items easily.
A well-designed custom corner cabinet will let you use all the room available without having to bend or make a big effort to reach the items.
Before investing in new cabinets, consider how these solutions could improve the organization of your kitchen and make your life easier. A good team of experts can help you identify your needs and design the perfect cabinets for your kitchen's style and your cooking needs.
Check out some of the storage solutions and cabinets that we have created for our customers.