Grey kitchens bring a unique sophistication to your home. They're not as bold as a black kitchen or as striking in appearance like a white one but come with a balanced, cool and soft appeal. Grey also provides a very fresh and contemporary feel to the space for a range of styles. This is why it's a great alternative to a white or black kitchen.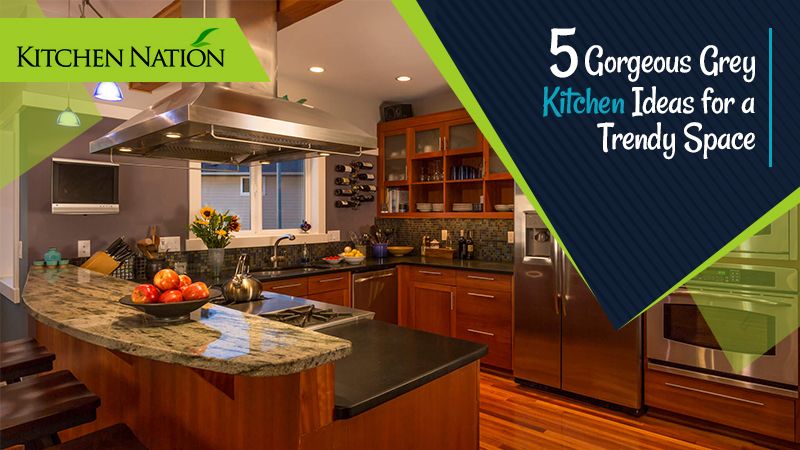 In today's blog post, we've put together some gorgeous grey kitchen ideas to give your room a trendy makeover. Read on to learn more.
Mix Layers of Grey
Using various shades of grey in individual elements of your space can help create a unique style while maintaining a unified look. For example, choose a dark shade like slate grey to paint your kitchen island and the walls, and a subtle light shade for your cabinets. For the backsplash and countertop, opt for a light colour with dark flecks of grey to connect the colour scheme. Make sure to keep the rest of the room in light colours, be it the ceiling, floor, shelves or windows.
Install Grey Open Shelving
Install open shelves on a light-coloured wall to create a rustic, casual look in your space. Remember to match the shade with that of your kitchen cabinets to promote a cohesive look. Store your attractive essentials on these shelves complementing the rest of the decor. Pair the shelves with bright white marble countertop, backsplash or wall tiles, and sink for a cheerful and airy appearance.
Add a Pop of Colours
If you're opting for a dark grey colour scheme, throw in some bright colours to brighten the space. Bold and bright yellows are an excellent choice to pair with dark grey. Add bar stools or chairs in yellow around the island or the dining table. You can also use the colour as accents such as bowls, decorative pieces, fruits, flowers, window treatments, hood, books and coasters.
Use Copper Finishes
When you choose a pale grey colour palette for your kitchen, accessories in copper finishes can act as a perfect foil. Copper can bring a feminine charm to the room with its pinkish hue. Incorporate the metal as lighting fixtures above your kitchen island or workstation, wall decor or drawer and cabinet pulls, bars, etc. If you don't have a limited budget, you can also get a copper range cooker or a hood with copper accent.
Embrace the Wooden Touch
The pairing of dark greys and wood or timber can provide a sleek, contemporary look to your room. Add wooden trims to your all-grey units such as island storage and floor cabinets to create a clean trendy style. You can also build matching wood cabinets to create an outstanding style for your space.
Grey works really well for kitchens as it combines an exciting warmth with a relaxing neutrality. A grey kitchen will continue to trend for years to come. Follow any of these suggestions and make your kitchen look stylish. An experienced kitchen design expert can help you choose the right shade of grey for your space. Make sure to test different shades in various light conditions to make the right choice that complements the character and personality of your kitchen.
At Kitchen Nation, we provide you high-end kitchen renovation, redesigning and remodelling solutions within your budget. Contact us for your home projects in Toronto, Brampton, Vaughan or any other city in the GTA today!