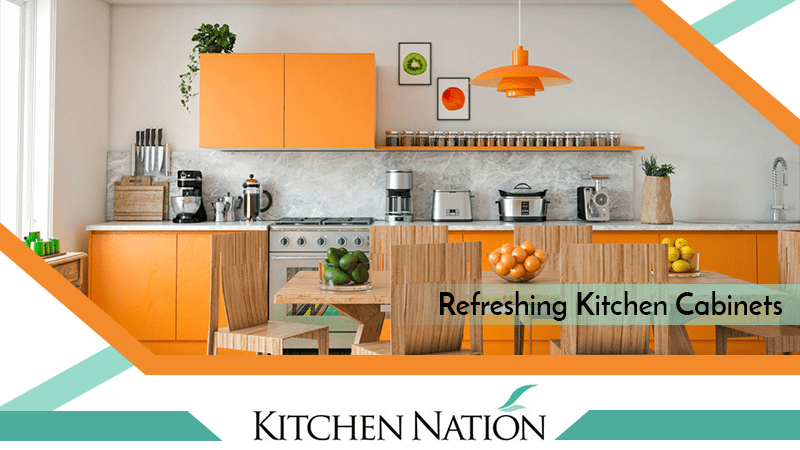 Are you bored of your kitchen's appearance? If so, then it's time for a quick upgrade. Fortunately, not all upgrades are expensive as a simple change in cabinet colours can give an instant facelift to your kitchen.
The colour of the cabinets plays a crucial role in determining the overall appearance of your kitchen as it is the most visible part of your kitchen space. If you want to give a vibrant look to your kitchen, a bold choice of colour will make the cabinets stand out. But, if you want a soft mood for your kitchen space, neutral colours or subdued hues will be the perfect option. All you need to do is choose a refreshing colour for your kitchen cabinets.
Check out these 5 dreamy colours to update your kitchen cabinets and give them a new look.
1) Cool Mint
The name of the colour is itself refreshing, just think of the freshness this colour will add to your kitchen cabinets. Cool mint is a timeless colour that adds elegance and serenity to the interiors. This super cool pastel pairs well with white tile backsplash, white granite countertop and black fixtures to give a perfect combination of modern and vintage touch to your kitchen.
2) White Dove
White dove is a go-to colour that has the ability to bring tranquillity to any space. If your kitchen has few windows, then this beautiful colour on your cabinets can make your kitchen appear brighter and more appealing with its soft warmth. You can complement your cabinets with dark-wood accents and steel utensils.
3) Hale Navy
If you want to choose an offbeat colour for your kitchen cabinets, hale navy is the right choice for you. This versatile colour is perfect to up the style game of a sunny kitchen. The intense and dynamic appearance of this colour can make your simple kitchen cabinets look stunning. A white kitchen island, vibrant green tiles and metal utensils with some potted plants on the window sill will complement the cabinets and make your kitchen look complete.
4) Warm Taupe
Warm taupe is a perfect cabinet colour to create a warm and inviting kitchen. This colour offers a blend of grey and brown that makes your cabinets look more sophisticated. It works great with plum accents and gives a soft finish to the interiors. Black countertops, hardwood floors and high-tech kitchen appliances will add to the beauty of your kitchen.
5) Bamboo Leaf
Bamboo leaf is an unconventional colour for kitchen cabinets but gives a beautiful finish to the interiors. It gives a vibrant pop of colour to your kitchen and makes it look livelier. This strong hue adds a refreshing touch to your otherwise dull cabinets and its slight shine reflects light, thus making your kitchen brighter.
The above-mentioned colours are great for kitchen cabinets as each gives a distinct appearance to the kitchen interiors. They have the ability to transform your kitchen and make them look designed like a pro. If you want to add these colours to your kitchen cabinets, hire a kitchen remodelling contractor and get the desired look.