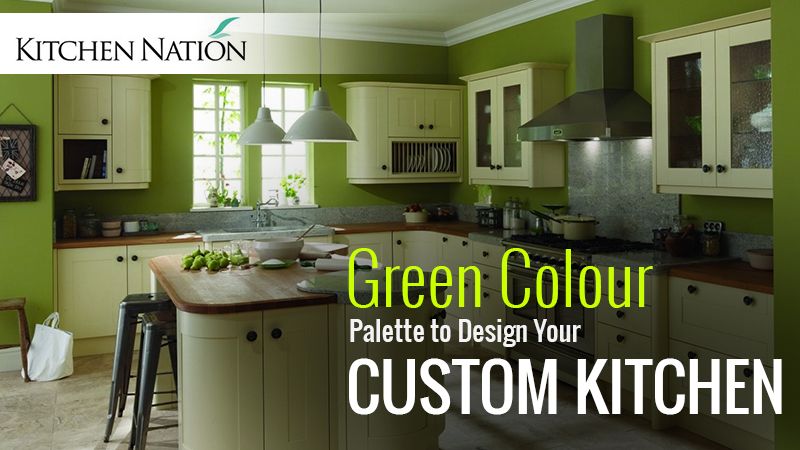 Green is the most natural of colours and using this colour palette is an amazing idea when it comes to kitchen design. There are several shades of green available ranging from lime, forest, mint to olive and sage green. Whether you want to create a vibrant or a soothing ambience for your kitchen, you have a shade for every mood. Make a choice based on your aesthetic preference, personality, and the style you want to create for your custom kitchen.
If you're planning a kitchen renovation or a kitchen redesign and want to introduce this colour palette to your space, then you're in the right place. In today's blog post, we'll share four simple yet stylish ways to use a green colour palette in your custom kitchen.
Walls 
Walls are the simplest option to try out when you aren't completely convinced about how a green kitchen will look in your home. Choose a shade for your kitchen walls depending on the style you want to create. For example, if you want to have a farmhouse-style kitchen, choose a green pastel shade like mint. Pair it with natural textures and vintage accessories to complete the look. Lighter shades of green pastels help make your kitchen look brighter by enhancing the effect of natural light. It also produces a beautiful contrast against white cabinets and countertops.
If you don't want to paint your walls, opt for wallpaper with green motifs that complement your space.
Kitchen Island
The kitchen island often serves as the focal point in a modern kitchen. You can paint your kitchen island in a shade of green if you want to incorporate this colour palette into your space. Use a soft green shade to bring an energizing feel. Make the island more functional by adding a sink, and open shelves. You can also fit a mini fridge in your kitchen island. Add a wood top on the island to make it visually appealing.
Cabinetry
Kitchen cabinets play a major role in the overall appearance of your kitchen. If you want to integrate green into your kitchen, cabinets are the best option to go for because they occupy a larger section of your kitchen. If you want a bright and bold look for your kitchen, lime and fluorescent green are ideal while mint, celery, and sage green are better choices for an elegant, understated look.
However, remember that no matter what shade of paint you choose for your kitchen cabinets, if they're not expertly crafted with fine details and high-quality material, they won't look good. Make sure to install stylish custom kitchen cabinets to see a stunning kitchen transformation. If you reside in Toronto, Mississauga, Vaughan, Oakville, Brampton or Etobicoke, check out our wide selection of kitchen cabinets.
Backsplash
A tile backsplash in muted green shades such as forest or sage green is an excellent choice for your kitchen. These shades work well with wood colours, metal finishes, and natural materials. Opt for a simple tile backsplash with or without texture and pattern. Combine the look with a wooden butcher-block countertop, cherry coloured custom kitchen island, industrial style lighting fixtures in soft gold, and exposed beams. An inclusion of real indoor plants in and around the kitchen window will take this decor to another level.
Make sure to work with a single shade of green throughout your kitchen. We hope you'll find these ideas helpful when working with green colour in your kitchen.
If you're looking for quality, creativity, style, and variety for your kitchen remodelling, redesigning or remodelling project, then contact Kitchen Nation. We specialize in providing custom solutions for your kitchen to improve functionality and aesthetics according to your needs and budget.