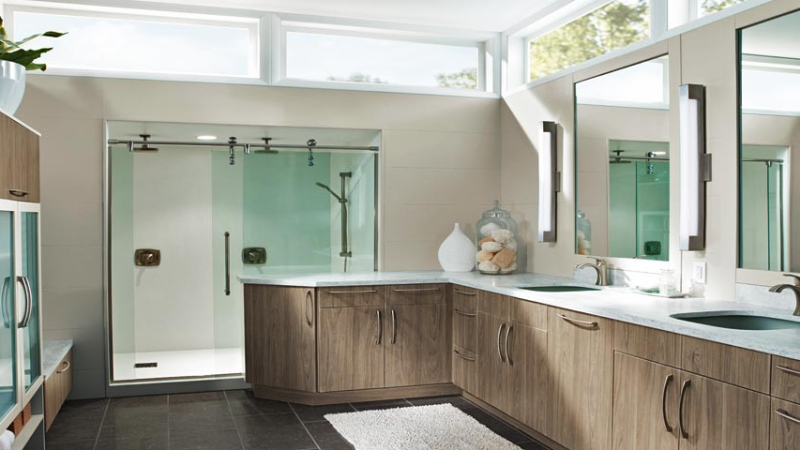 When you stop to think about it, a shower fulfills many functions.
Many people prepare for their day under in their shower. They focus themselves, or sing in their showers. Worries are washed away after a long day with the falling water, and of course, showering is a necessary hygienic activity for all of us.
However, some people need extra consideration when designing a shower stall. Entering, exiting, or operating a regular shower stall can be difficult for someone who is pregnant, ill, disabled, extremely young, or much older. For these cases, an accessible shower is needed.
Questions to Ask Yourself When Designing an Accessible Bathroom
Not everyone's needs are the same. Before designing the bathroom, there are some important questions that you need to answer.
Are there safety accessories that need to be installed to avoid slipping or falling?
Do I need a tub or just a shower?
Are medical supplies needed? If yes, is there a safe cabinet to place them in?
What activities can a user do independently if grab bars are installed?
Will the user's condition deteriorate? If yes, is there enough space for future additional accessibility installations?
Once these questions have been answered, there are two ways to proceed: install grab bars or build a walk-in shower.
Installing Grab Bars
The grab bar are a handy accessory when stability is needed. The bars support a person's body weight, creating a safer showering experience for the user.
To function properly, grab bars must be securely anchored to the walls. This may require the installer to beef up the framing from behind the wall.
These bars should ideally be 1-1/4 to 1-1/2 inches in diameter.
They must have a space of 1-1/2 inches between the grab bar and the wall. Without proper space, the opening may become a trap and lead to injury.
Look for reinforced panels that can accept grab bars as accessories.
Get a Walk-in Shower Floor
The lip on the shower floor can be extremely dangerous. By removing it, and creating a walk-in shower floor, the risk of a user falling is greatly reduced.
Consider installing large-format tile. It can create a nice, level surface for a removable shower bench or shower stool.
Showering is an important part of anyone's day. This is why building an accessible shower is primal for those who need it. With a few alterations to a bathroom, anyone can safely shower.