While many people look forward to that time of the year when they have to make changes around the home, including renovating the kitchen, others have knots in their stomach just thinking about it. They simply cringe at the thought of carrying out renovations, understandably.
You may find that you have no idea just how to begin and how to give your kitchen that great look and appeal. Well, if you fall into this category, you're in luck, because this article will present some simple but bespoke kitchen renovation ideas to upgrade your home.
So let's get right into things! Check out some bespoke renovation ideas to transform your kitchen:
RETILE OR RESURFACE OLD TILES
This can surely help you save costs in kitchen renovation whilst giving your kitchen that classy look. You can't ignore the tiles when you walk into any kitchen, and when you retile your kitchen or polish up the surface of the old ones you got there, it would make a great difference to the overall appeal and aesthetics of your home.
WALLPAPER DESIGNS
Incorporating dynamic wallpaper is ideal to change the tone of your kitchen anytime. There are some unique wallpapers and patterns available, and it with a small budget, there's something you can find that suits your style. Wallpapers are cool and less expensive than tiles, of course, and this can be a bonus for you. And you can customize the design by combing tiles and wallpaper on the wall, so the wall area is interesting and vibrant all through.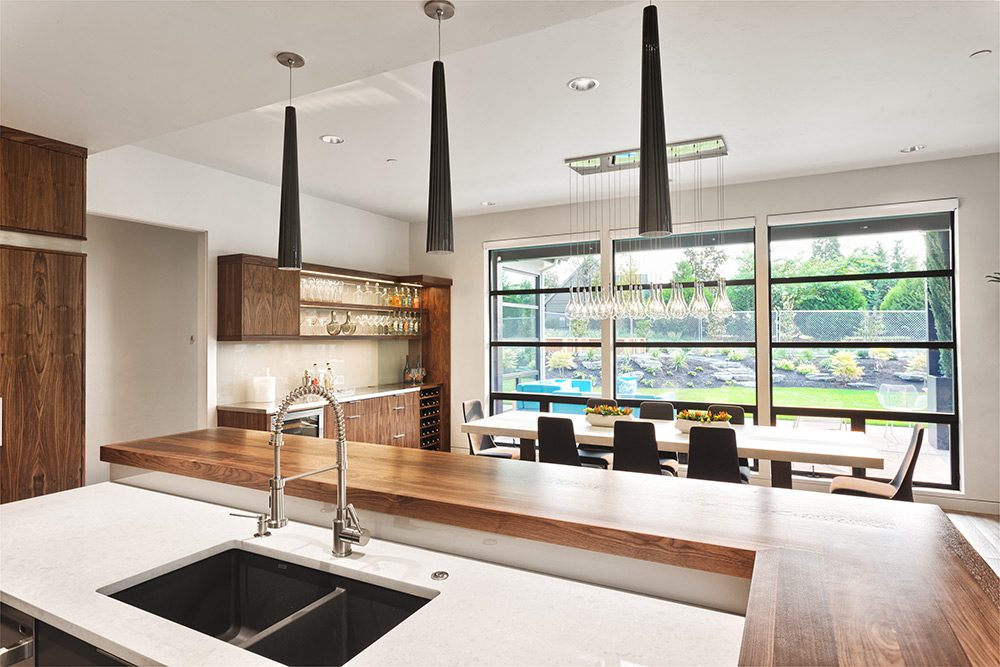 POLISH WOOD SURFACES AND REPAINT KITCHEN CABINETS
Now, here are two great ways to add elegance to your kitchen. When you have any wooden surface in your kitchen, and that includes the floor and countertops, it would be great to polish them from time to time and keep them looking new and glossy, rather than old and cheap. You can also repaint kitchen cabinets and shelves, and you might want to opt for bright colors like orange, to add a fitting contrast to the background of your kitchen. Or if you like, black can be ideal to paint aspects of your kitchen shelves or cabinets. Just be sure you achieve a perfect blend of colors that suits your personality.
KITCHEN CABINETS AND COUNTERTOPS
Remember, we're talking about bespoke ideas to upgrade your kitchen, and both the kitchen cabinets and countertops are two aspects you must pay attention to if you want to achieve elegance in your kitchen renovations. Indeed, there can be no kitchen without cabinets and countertops. If it's bespoke renovation ideas you have in mind, just be sure that you achieve a near-perfect blend and tone at the end of the day when all the dust has settled.
There has to be sync or contrast with the various elements that go into your bespoke kitchen; the cabinets, the floor, the wall, the countertops, and the appliances must have a synchronized tone that enhances the feel of your new kitchen.
CHANGE STUFF THAT'S BEEN OVERUSED
It doesn't get easier than this. There are definitely some items in your kitchen that have been overused and has to go out the door. You just have to replace them for newer, more contemporary ones even if you think they still work.
To achieve the modern, bespoke kitchen you have in mind, you can't afford to still have coffee makers and dishwasher invented in the 50s and 60s sitting on your countertops. Not unless you're into antiques. Come on, go modern. Go classy! You must evolve and move with changing times by getting newer version appliances.
That's the sure way to upgrade your kitchen: new sinks, new faucets, new blinds, new cabinet doors, new appliances, etc.
CHANGE THE ENTIRE KITCHEN LAYOUT
This needn't be a grueling process for you if you employ the services of a professional kitchen renovation contractor. Changing the layout of the kitchen can give it that 'wow' effect, even if the appliances are the same ones. Also, changing the layout of your kitchen can free up more space and allow for more legroom for you.
When changing the layout, you should carefully consider what designs would fit the overall plan you have for the renovation. There are a number of awesome kitchen design to choose from, and your renovation consultant can help provide custom design options for you if that suits your budget.
INSTALL BEFITTING FLOOR TYPE

Whatever floor type appeals to you, whether marble, tiles or plain wood, just be sure your kitchen floor is up to date and classy. Some homeowners are concerned about taking care of the ceiling and walls of the kitchen without bothering about the floor, but the kitchen floor is just as important. If you want, you can throw in a centerpiece fluffy rug to spice things up. Just be sure there are no spills, though. Or you can even opt for floor paint if you like. And if you get the color right, floor paint can add a fitting touch of brilliance and class to your kitchen.