Complete Bathroom Makeovers in Toronto, Brampton and Vaughan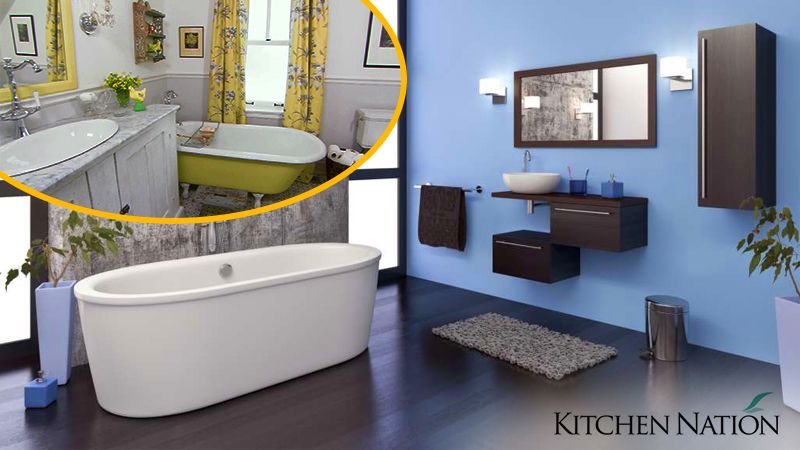 If you're mulling over a complete bathroom remodeling, two things should be at the forefront of your mind – your budget and finding reliable people to do the job. You want experts who give you the right suggestions and complete your bath renovation project smoothly without exceeding your budget.
Experienced bathroom contractors in the GTA, transform your ideas into reality. Kitchen Nation is here to design and construct a stunning bathing space for your family.
We will meet with you and listen to your ideas. Then we give you a free estimate of the bathroom renovation project. We will only begin the project once you agree to the budget and the remodelled layout.
From deconstruction to painting, we provide everything in between.
Our Services Include:
Free consultation on design and materials
Change from bathtub to shower or vice versa
Backsplash tiles and flooring
Whirlpool and soaker tubs
Bathroom sinks and toilets
Bathroom vanities and cabinets
Lavatory and faucet
Electrical and plumbing solutions
Serving Toronto, Brampton, Vaughan, and every other part of the GTA, we follow a streamlined method of remodeling bathrooms. Our team works closely to meet your expectations. Even while on a given budget, we make sure to only use high-quality and durable components.
We can create a custom-designed bathroom that matches your interior decor. Taking into account all safety measures, we'll make it a place where you can escape from the stresses of daily life and refresh yourself.
Request a quote or call us at 905.595.1211.