Design Process
Our experienced staff means that here at Kitchen Nation specialize in many different areas. Custom kitchens, kitchen refacing, kitchen countertops, kitchen cabinets, kitchen floorings and kitchen cabinet doors., we do it all!
We'll go beyond offering simple products and services and instead turn it into an experience!
The 6 Step Process to Your New Kitchen
Thanks to our 17 years of experience in the interior design and home renovation industries, we've managed to streamline the process in getting you the sort of home you've always wanted.
In six simple steps, you'll have the kitchen, bathrooms, closets, or entertainment units you and your family needs.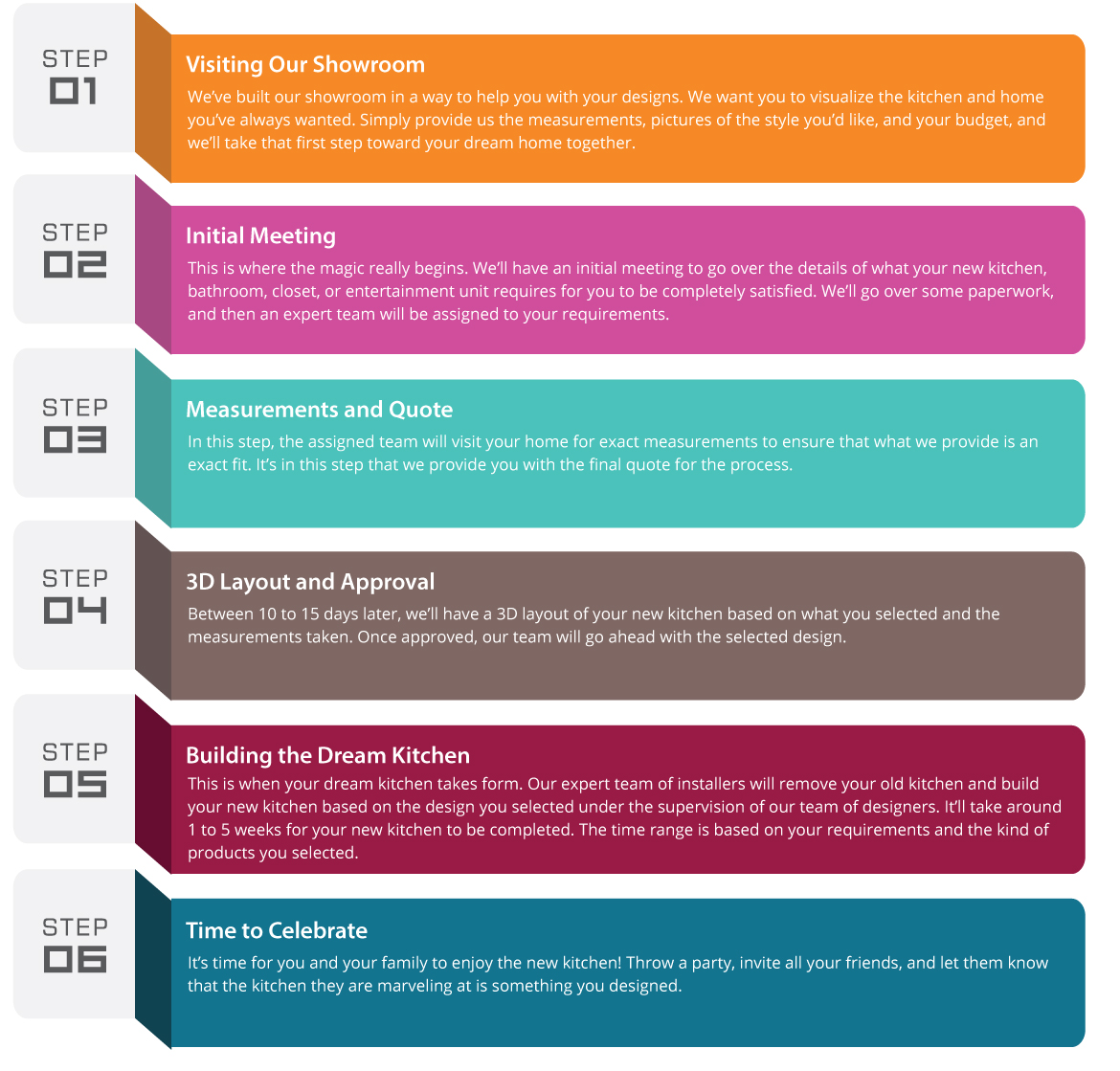 1
Visiting Our Showroom
We've built our showroom in a way to help you with your designs. We want you to visualize the kitchen and home you've always wanted. Simply provide us the measurements, pictures of the style you'd like, and your budget, and we'll take that first step toward your dream home together.
2
Initial Meeting
This is where the magic really begins. We'll have an initial meeting to go over the details of what your new kitchen, bathroom, closet, or entertainment unit requires for you to be completely satisfied. We'll go over some paperwork, and then an expert team will be assigned to your requirements.
3
Measurements and Quote
In this step, the assigned team will your kitchen and home for exact measurements to ensure that what we provide is an exact fit. It's here that we provide you with the final quote for the process.
4
3D Layout and Approval
Between 10 to 15 days later, we'll have a 3D layout of your new kitchen based on what you selected and the measurements taken. Once approved, our team will go ahead with the selected design.
5
Building the Dream Kitchen
This is when your dream kitchen takes form. Our expert interior design and renovation team will take down your old kitchen and build your new one based on the designs you selected.
It'll take around 1 to 5 weeks for your new kitchen to be completed. The time range is based on your requirements and the kind of products you selected.
6
Time to Celebrate
It's time for you and your family to enjoy the new kitchen! Throw a party, invite all your friends, and let them know that the kitchen they are marveling at is something you designed.
Hope we are welcome too!