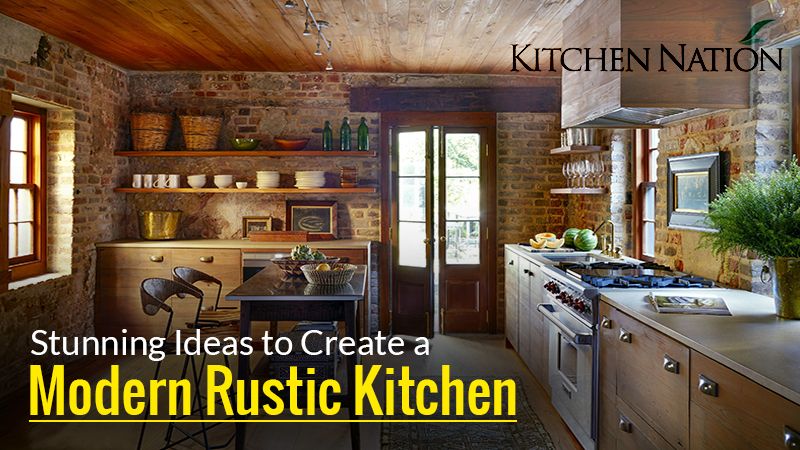 Rustic kitchens have a special charm and warmth. They come with faded finishes, rough surfaces, and century-old details that derive inspiration from organic colours, patterns, and textures. This farmhouse or cottage-style aesthetic has been popular for several years and home designers have been giving it some wonderful seasonal upgrades and improvements to make it more suitable for modern houses.
If you're looking forward to creating a rustic kitchen in your home, then here are some stunning ideas you can draw inspiration from. Modern rustic kitchens are mostly about building a comfortable space. Warm wood tones, white woodwork, old architectural structures, and a mix of metals are some of the key inclusions that you can make in your kitchen to create a modern rustic space. Read on to learn more.
Mix and Match
If you want to create a high-impact modern rustic kitchen, mix and match different sleek and outdated styles to come up with a unique look. For instance, combine exposed beams and reclaimed floors with stylish contemporary metal fittings and hardware. Use horizontal boards on the wall instead of conventional modern backsplash to create a streamlined backdrop that highlights the features of your themed kitchen.
Use Pine Boards
Knotty pine boards are an excellent way to introduce a rustic appeal in your new or old kitchen. You can either choose naturally finished or whitewashed pine boards for your kitchen flooring and walls. Pair up pine boards with an outdated utility cart, exposed beams, galvanized containers, and oversized metal light fixtures to achieve a rugged workspace look which is a typical feature of rustic kitchens.
Pair White Cabinets with Dark Wood Tones
A simple way to have a modern rustic kitchen is to pair pristine white kitchen cabinetry with dark wood tones. For example, a combination of dark-stained hardwood floor, reclaimed wood ceiling, stained wood kitchen island, and bright white cabinets will transform the look of your existing or new kitchen into a rustic themed area. Enhance the look with brass accents in the form of lighting, kitchen hood, faucets, cookware, sculptures, and keepsakes. Balance the style by including quartz-surfacing countertops.
Introduce Age-Old Architectural Elements
Establish a rustic appearance in your kitchen by adding architectural elements such as reclaimed beams, mantels, and floorboards. They'll help to provide your kitchen a century-old look instantly. You can visit reclamation centres or salvage yards to get these elements.
Create a Build-over-time Look
This is a unique way to have a rustic-themed kitchen. The century-old cottage or farmhouse-style kitchens were composed and organized by adding items such as fixtures, workstations, and cupboards at different times. You can create a similar built-over-time rustic look by selecting varied types of cabinet styles, countertops, and cabinetry finishes. Complete the old-world look with rustic ceiling beams, stone floors, and aged plaster walls.
Update the Traditional Rustic Design
If you already have a traditional rustic kitchen, you can update its aesthetic appeal and functionality with a few changes. Opt for shiny or glossy surfaces, lighter wood finishes, whitewashed wood ceilings and plank floors, open shelves, bronze lighting fixtures, and sculptural accents. These features will give your existing traditional rustic kitchen a modern facelift.
Take inspiration from these ideas and try out any of these in your kitchen to add a beautiful rustic charm to your space. Contact Kitchen Nation at (905) 595-1211 for all your home redesigning, remodelling, and kitchen renovation solutions in Toronto, Brampton and Vaughan. We have over twenty years of experience serving customers across the GTA at competitive prices.