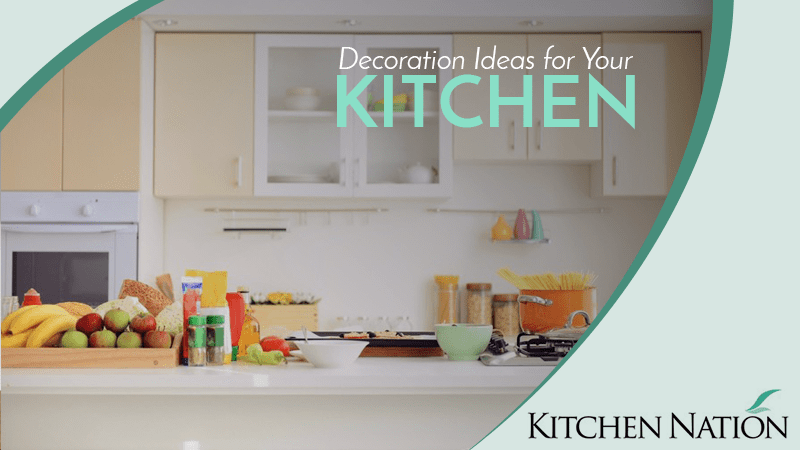 Spring is finally here and it is time to celebrate this season by bringing its beauty to your home décor. To make the most of the season that cherishes new beginnings, start adding a touch of spring to your living space with the heart of your home, i.e., your kitchen.
A kitchen is the most utilitarian space in a home; therefore, beautifying it with spring-inspired decorations will uplift the overall feel of your home and make it more refreshing. You don't need to break a bank to do so as a few well-thought additions can make it work. Follow these six easy spring decoration ideas from our kitchen renovation experts to accentuate your kitchen space and cherish this wonderful season.
1) Add Some Fresh Seasonal Blooms
The easiest way of celebrating the spirit of spring is to display fresh flowers in your kitchen. Put a bouquet of tulips, lilacs or daffodils in a vase or some live plants on your kitchen's window sill to perfectly add a touch of spring to your kitchen décor. These seasonal blooms will radiate life into your kitchen and add to the beauty of this lovely season.
2) Cut Down on Décor Clutter
Spring clean your kitchen by cutting down on décor clutter. Keep only pretty and practical kitchen tools to increase the functionality of your kitchen without compromising on style. Decorate your kitchen with attractive utensils such as cutting board, coffee mugs, pitchers, jars and kitchen towels to serve a dual purpose. These decorative utensils will be aesthetically pleasing to display and can also be used for cooking, reducing the number of unwanted kitchen accessories.
3) Include Spring-Themed Details
Bringing in some fine, spring-themed details will add character to your kitchen. Include a colourful dish towel with pretty prints, wicker baskets, vintage wooden bowls, and cutlery pieces with floral prints to make your kitchen space pop. These amazing additions are easily available and can be used to match other season decors.
4) Decorate with a Chalkboard
A chalkboard is a versatile decorative piece that can be used to implement a variety of décor styles. Draw some spring-inspired clip-arts or taglines such as carrots, tulips, honeybees, umbrella, shining sun or a 'Welcome Spring' written in an artistic font. A chalkboard drenched in the seasonal spirit will make your kitchen more interesting and give an instant facelift to its interiors.
5) Incorporate Some Botanical Artwork
Adding some botanical artworks in an open shelving kitchen is the best way to transform your kitchen space into a spring getaway. Framed botanical prints are aesthetically pleasing, sophisticated and visually appealing. They effortlessly blend into your spring kitchen décor that celebrates the beauty of nature.
6) Add Colourful Accents
Spring is the time to embrace colours and incorporate them into your home décor. Add some colourful accents to your kitchen with vibrant cookware, café curtains or floral printed roman shades, colourful cabinets and a patterned area rug near the dining space.  This will create a visual impact and give your kitchen an awe-inspiring look similar to what spring is famous for.
Bring the beauty of spring to your kitchen with the above-mentioned decoration ideas. These easy additions will make your kitchen more interesting and enhance the overall appeal of your living space without breaking your budget. If you want to learn more about transforming your kitchen, then contact Kitchen Nation, the leading the one-stop shop for all your remodelling and renovation needs.