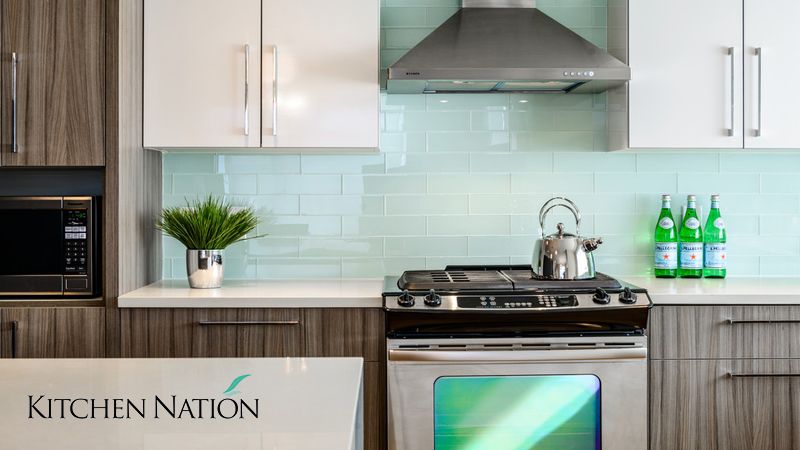 Backsplashes have a significant role to play these days when it comes to transforming the look of your kitchen. Besides protecting the wall above the working area and complementing the countertop, they help create a focal point in your space.
Backsplash designs have evolved over the years and are now available in a wide variety of materials such as tiles, wood, metal, glass, brick, mirror, natural stone, etc. In this blog post, we'll share some amazing backsplash ideas that have recently gained a lot of popularity. If you're looking to upgrade the visual appeal of your kitchen, you'll find these ideas helpful
Bold and Bright Colours
Forget neutrals and embrace bold and bright colours such as splashy yellows, ocean blues, charcoal grey, black, and lime green. These backsplashes will provide you with a great opportunity to introduce a pop of colour to your contemporary kitchen and create a unique personality of your choice. When you have contrasting cabinetry and countertops, a bold and bright backsplash can give your space a luxurious dramatic effect. However, you need to make sure that there's good lighting in your kitchen to make the most of this visual appeal.
Marble Slabs
Sounds unusual? Marble slab backsplashes are very popular these days due to their stellar appeal. The subtle colours and unique variation in veining, provides an exclusive aesthetic look. The slabs come as a continuous piece, stretching throughout the area instead of individual pieces of tile. Pair it with a matching countertop, a stainless steel range hood and fixtures to create a very trendy kitchen. With the availability of endless design choices, you can select a slab that suits your decor and preference.
Glass Tile
It has become one of the most favourite materials among homeowners who are interested in giving an unconventional look to their space. Glass tile reflects light and balances the lustre of metal finished cabinetry and accessories. There are several varieties of glass backsplashes to choose from. You can opt for interlocking sheets of linear glass, mosaic tiles or stone, and classic glass tiles. Select colours that complement the interiors and style of your room. For example, a dual colour, glass tile backsplash displaying a gray and bright purple combination, can work well in a modern kitchen with white cabinetry and black countertop.
Ceiling-Height Application
Usually, the area available between the countertop and the base of the upper cabinets is covered with backsplash. It's now a hot trend to take this traditional backsplash area up to the ceiling to create a focal point, enhance spaciousness, and give the walls visual depth. It helps to unite all the elements of the room and if you want a luxurious appearance, you can experiment with colours, patterns, and textures.
Glossy Mirrored Finishes
The mirror finish provides a glossy appearance to the backsplash tiles, especially when natural light falls on it. The reflected light helps to make your kitchen appear brighter. Make sure to have appropriate under cabinet lighting to take advantage of the glossy surface at night. This will ensure that you enjoy a similar dramatic look in your space all day.
Metallic Finishes
A metal finish backsplash tile is a good option if you aren't fond of glossy surfaces. The textures of this style resemble that of real metal and can introduce an industrial feel to your kitchen. You can also install these tiles across the wall for a greater impact.
Choose a backsplash style that suits your space based on your aesthetic and functional needs. If you're looking for a high-quality kitchen renovation in Toronto, Vaughan or Brampton, contact Kitchen Nation. Our team of experts can recommend the best backsplash design for your trendy home.