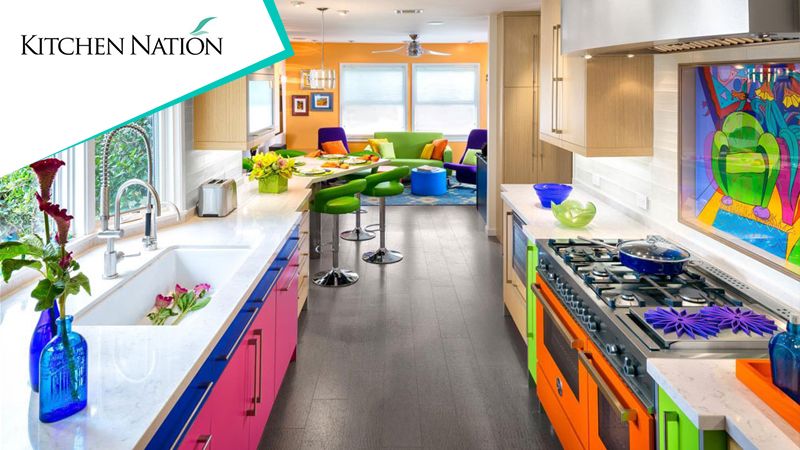 Contemporary kitchens blend various elements of modern design with other styles such as industrial, rustic and traditional, to create a unique sleek look. With neutral colour palettes, metallic hardware, minimalist cabinetry, and stainless steel appliances, this kitchen style helps design a space that's cutting-edge yet welcoming with some accentual inclusions. They have a subtle elegance and charm that never go out of style.
In today's blog post, we've put together some chic contemporary kitchen ideas. If your kitchen appears to be dated, you can try out these simple yet stylish design ideas to give a refreshing contemporary makeover to your space.
Combine Different Styles Strategically
Whether you want to combine rustic, traditional or industrial elements in your kitchen, make sure to combine them strategically so that the final appearance doesn't look forced but visually appealing. Here are some simple ways to incorporate different styles in a contemporary setting:
Traditional: Display your traditional crockery, dishware or glassware on open shelves or glass door cabinets. You can copy some traditional modelling details and add them to your contemporary kitchen. If you use a traditional wooden breakfast or dining table, make sure to add identical stain colour to your kitchen island or your base cabinets and accentuate them to create a cohesive look.
Rustic: This style celebrates the ageless beauty of the wood. To incorporate rustic elements, you can include a stone wall and vintage wood panels on the ceiling in your space. Add a rich rustic wooden stain on the minimalist cabinets and countertops. Opt for heavy wooden dining table and kitchen furniture with a weathered.
Industrial: It features a combination of metal and wood. You can pair wooden floors and stainless steel lighting fixtures with modern appliances, countertops, and cabinetry to blend industrial elements in a contemporary kitchen smoothly.
Include Bright Pop of Colours
Adding a splash of bright and bold colour to a monochrome kitchen decor is an excellent way to create a chic contemporary style. Choose a pop of colours such as lime green, fluorescent green, orange, sunflower yellow, canary yellow, turquoise, cyan, etc. for the backsplash and other accessories.
Balance the Elements
When you have a small kitchen, it's very important that you focus on making the space functionally more efficient while preventing it from looking smaller. Make the most of every inch of the available space with smart solutions by concentrating storage, appliances, and cooking elements along one wall. It's also a good idea to balance dark cabinets with light-coloured countertops, flooring, and walls. Learn more about how to design small contemporary kitchens to have minimum clutter and maximum efficiency.
Go for White Cabinetry and Countertops
Bright whites are an integral part of contemporary kitchens. They help brighten the room and transform its appearance. Opt for all-white cabinets, cabinet doors, and pair them with white granite countertops. There are several shades of white to choose from ranging from ivory to snow. Since every kitchen is unique, you can get customized solutions for your space by hiring a reputed kitchen renovation service. The experienced professionals will help you choose the right shade of white and guide you throughout so that you get a customized contemporary kitchen that blends with the rest of your home decor.
If you're looking for a superior kitchen renovation in Brampton, Vaughan or Toronto, contact us at (905)-595-1211 or write to us at info@kitchennation.ca. At Kitchen Nation, we have an experienced team of professionals who strive to deliver excellence and help make your dream kitchen a reality.