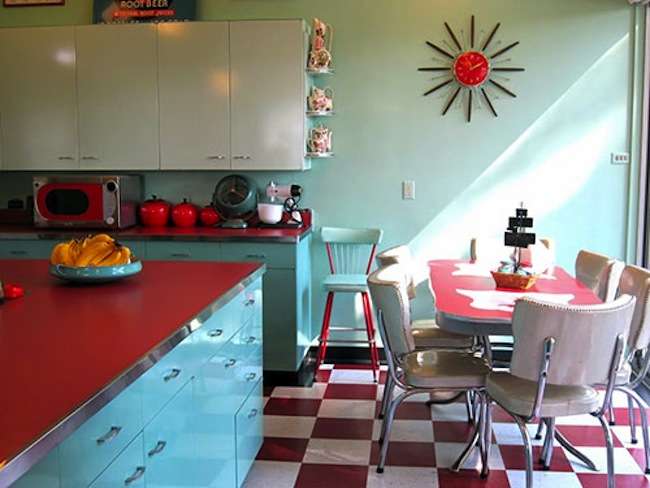 Retro kitchen designs are fun and they're an amazing way to revive your love for vintage and bright nostalgic colour combinations. It's a culturally aged style that generally implies a vintage of 15-20 years at least.
Whether you want to create a vintage kitchen or want to recreate a retro style with smart uses of modern kitchen decor, we have you covered. For this blog post, we've put together some easy and simple design ideas to create a retro kitchen.
A smart use of bold colours is the key to creating a retro kitchen. Choose a countertop-to-ceiling backsplash in a bright colour like turquoise. Keep the kitchen walls and cabinets white. Graphite or quartz countertop and a stainless steel sink will add a contemporary touch. Place a vintage wooden table along with vintage chairs. Paint its top with white colour and the sides and legs of the table in a turquoise colour. Hang teardrop pendant lights overhead to uplift the style of your new retro kitchen.
However, if you own a modern kitchen and just want to add some retro elements into the space, incorporate some retro hues. Golden burnt orange colour is one of the popular retro colours that you can opt for your countertops and chairs against white cabinetry, table, walls, and window treatments. Choose a light coloured patterned backsplash that matches with burnt orange colour and your kitchen flooring pattern. Hang a stylish round pendant light overhead in burnt orange colour to beautifully complement your kitchen decor.
If you already own a vintage kitchen with a wall of teak-veneer cabinetry, upgrade it's look incorporating some new elements. Use simple cozy lime green slab-front kitchen cabinets to brighten your kitchen. Introduce more sources of outdoor light throughout the kitchen to make the space look more streamlined. Place a table with coordinated green glass surface at the end of the kitchen island. Add Danish-inspired chairs to complete the look of your smart retro style kitchen.
Go for vintage curtains and polka dot tablecloths to enhance the appearance of your retro kitchen. Get vintage cloth napkins with checkered prints, stripes or floral designs that match your tablecloth and your kitchen's theme. Your decorated dining table will give you the perfect retro escape while you enjoy food with your family and friends!
To complete the look of your retro kitchen, you'll need some vintage accessories such as sugar canisters, straw canisters, ketchup and mustard squeeze bottles, antique food scales, etc. Decorate them on the counter, and the retro-inspired table to compliment the theme.
Follow these simple kitchen design ideas and create your own stylish retro kitchen. For more creative ideas, check out Pinterest. Happy renovating!