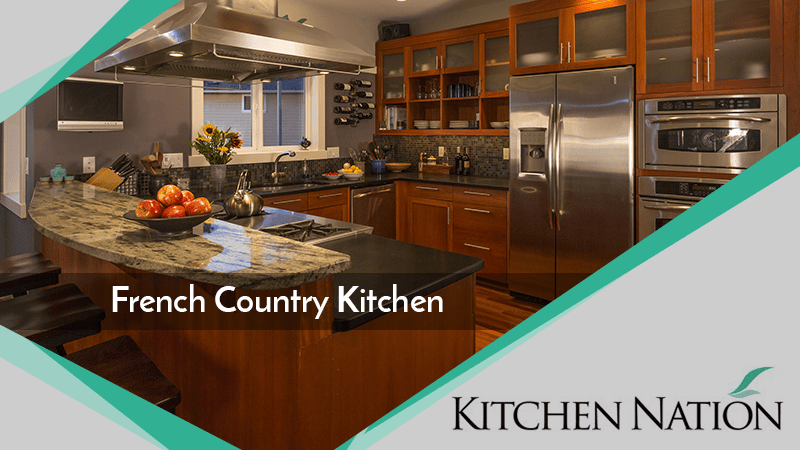 French country is one of the most desirable kitchen styles as it brings an incredibly distinguishable appeal to your kitchen. Intricate woodwork, subdued colours, rich fabrics and beautiful lines are some of the features of this elegant kitchen décor.
Homeowners prefer remodelling their kitchens and transforming them into a French country style kitchen because it gives a homey yet fashionable appearance to a kitchen while increasing its functionality. If you want to get a comfortable and awe-inspiring kitchen that has a charm of countryside living, then create a French Country kitchen by following these 6 methods.
1) Choose Soft Colour Palette
A French country kitchen features soft, pale colours matching the landscape of countryside. Choose muted hues in earthy tones such as creamy yellow, light grey and umber. These colours create old-world warmth and enhance the cosiness of your kitchen. Select your favourite earthy colour from this serene palette while painting your kitchen and cabinets.
2) Use Natural Materials
In a French country kitchen, natural materials add to the beauty of the décor. Natural materials such as wood, stone and brick are used for the construction of kitchen countertops, islands and cabinets. Incorporating natural materials into the décor through false ceiling beams, walls, chimneys and backsplashes give a warm and charming appearance to your kitchen and add to the earthy nature of the interiors.
3) Install Furniture-Style Cabinetry
Furniture-style cabinetry is an essential element of a French country kitchen. The architectural details transform your kitchen into a gathering space by making it more artistic and intimate. Armoire-style cupboard with a lot of space for storage, a kitchen island with classic table legs and built-in refrigerator door with intricate furniture details are some of the ways to incorporate the essence of this amazing kitchen décor style.
4) Add a Large Kitchen Island
The purpose of a traditional country style kitchen is to create a lively space for bringing a lot of people together. A large kitchen island is the best way to create a family gathering space where people can cook and dine together. If you have a spacious kitchen, make it livelier by building a large kitchen island that allows everyone to get involved in cooking and spend some quality time with the family.
5) Build Large Windows
French architecture gives importance to natural light. To create a French farmhouse style kitchen, build large windows that bring in natural light to illuminate your kitchen and add warmth to the interiors. These windows not only add to the aesthetic appeal of your kitchen but also make it appear airier and more spacious.
6) Use Porcelain and Pot Accessories
Earthenware pots, bowls and plates are the chief elements of a country style kitchen. Decorate your kitchen with pot and porcelain accessories to add an old charm to the interiors. Use colourful French pottery to make your kitchen more vibrant and attractive. They are available in delightful hues such as yellow ochre, green and variants of brown, blue and scarlet. Apart from using them for food preparation and serving, you can use them as decorative pieces to enhance the visual appeal of your kitchen.
The French country kitchens embrace elegance and focus on creating a cosy space that evokes a friendly feeling. It features soft colours, a large kitchen island, furniture-style cabinetry, pot accessories and large windows. If you want to celebrate the simplicity of life in our home, then give your kitchen a makeover by transforming it into a French country style kitchen.