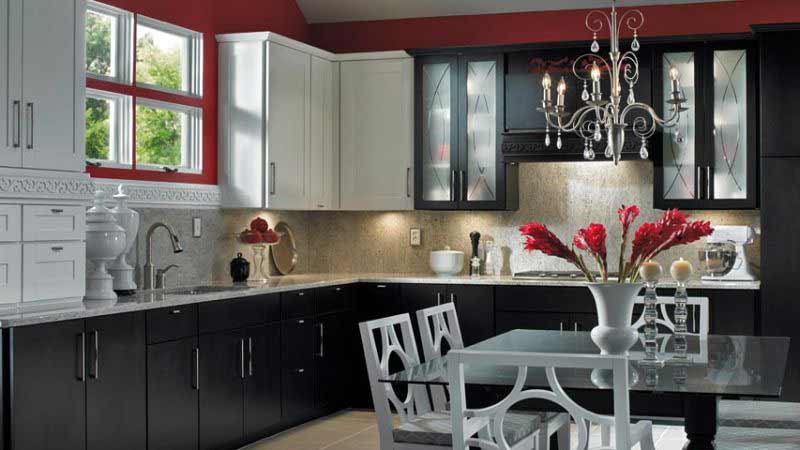 The efficiency of a kitchen doesn't depend on its area. Space and good design can turn even a small and dark kitchen into an efficient workplace. If you're planning to redesign and declutter your small kitchen then read this blog post. We've put together four smart design ideas to make your small kitchen incredibly stylish, organized and functional.
Build Storage for Cooking Tools
A small kitchen often lacks enough storage space and the result is a lot of clutter. Get inspired by restaurant kitchens using industrial racks and wall hardware for storage. Install simple bars with hooks and racks to hang your tools and utensils. You can also include additional storage by hanging baskets onto the racks that can hold several smaller items. Hang painted pegboards on your backsplash area near the sink or other walls to hang more tools. To store knives, you can use wall magnets. This will minimize clutter throughout your kitchen space and make it seem better organized.
Build additional storage by including open shelving at possible locations. For example, you can add open shelves over a counter, at the corners or under the kitchen island to store small kitchen items, crockery, cookbooks, and other tools.
Focus on More Countertop Space
Transform your old small kitchen into a contemporary functional space with minimalist, uncluttered kitchen countertops. It'll also help you in preparing and cooking your meals more easily. Put away all appliances and countertop items that you don't use often and store them in wall storage. Get a new age low-profile ceramic cooktop on which you can place a variety of items including your cutting boards when it's not in use.
Another effective way to increase your counter space is to purchase a rolling cart with wheels which you can use as an extra counter space. You can also turn the cart into an into an instant breakfast bar by adding some stools around it.
Incorporate Glass
Incorporating glass in a small kitchen will help to visually expand the space. Consider using various types of glass for cabinet doors, tabletops and countertops and see the difference they create in your small area. You can also strategically place mirrors around the kitchen to lighten up the room and create the illusion of a bigger space.
Replace the Flooring
Flooring matters to a small kitchen more than you think. If you have the budget, then opt for cork flooring in your kitchen. It's an extremely durable, resilient, and eco-friendly flooring option. For a small budget, consider linoleum or vinyl floors.
When redesigning and renovating a small kitchen, remember that the limited space can't accommodate everything that a bigger kitchen can. Your focus should be, therefore, on the functionality of the kitchen by ensuring that you have your necessary work areas and appliances available.
Note that good storage is the ultimate solution for small kitchens. Follow these small kitchen ideas and style your kitchen based on your taste. Contact Kitchen Nation for all your kitchen renovation and remodelling needs. We've been serving customers in Brampton, Mississauga, Scarborough, Etobicoke, and across the GTA for more than 20 years.