Wheelchair Accessible Bathroom Design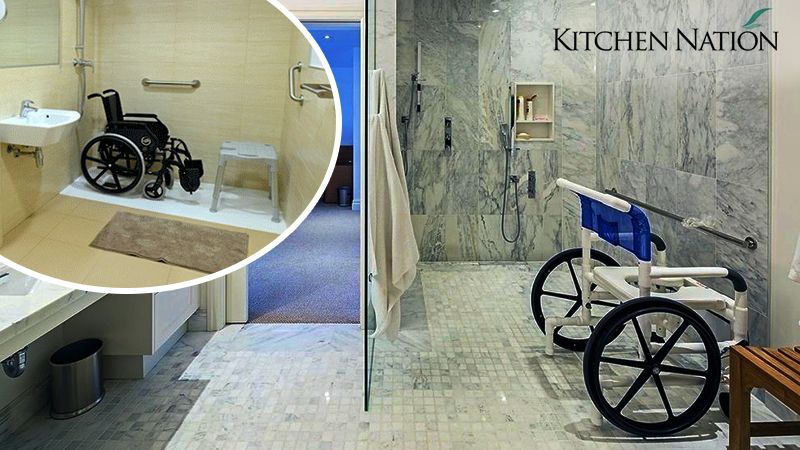 Creating a bathroom layout with wheelchair accessibility is not an easy task. Although you can try doing it yourself, it is often better to consult bathroom design and vanity experts for a flawless result.
At Kitchen Nation, we deliver cost-effective ideas to transform a normal bathroom to a handicap bathroom. We can manage your bathroom renovation project in the Brampton neighbourhood right from layout design to finishing.
Important Things to Consider
A physically challenged person or someone in a wheel-chair can face difficulty using the bathroom due to limited mobility options. Our mission is to make the bathroom experience hassle-free.
Here are a few things that must be considered before building a wheelchair accessible bathroom.
The Design – A blueprint of the layout must be prepared and revised several times to achieve the most optimized space. The bathroom must have a lot of space to accommodate a full-sized wheelchair.
Storage – It's important to take all measurements accurately before making custom storage units. Preferably all storage units must be installed halfway from the wall. The tabletops must have raised edges or lips that prevent personal care items from falling.
Accessibility – The height of all the everyday-use articles must be within reach. The wall mirror, the shower and the vessel must be set at a height between 3 to 5 feet (will vary with the height of the person) from the floor.
Doors and Windows – Sliding doors and windows are best for such bathrooms. Latches, knobs and handles must be fitted at a low height that is reachable by the person carrying himself/herself on a wheelchair.
Safety – Sharp or pointed edges must be covered with protective padding. The flooring must slip-resistant to avoid injuries.
We do our best to ensure complete safety of the person who will be using the handicap bathroom. We not only help you through bathroom renovation ideas, but we also provide high quality bathroom vanities.
Contact us for sleek and durable bathroom sinks, bathtub fittings, wall units and storage units today!