Shaker Style Cabinets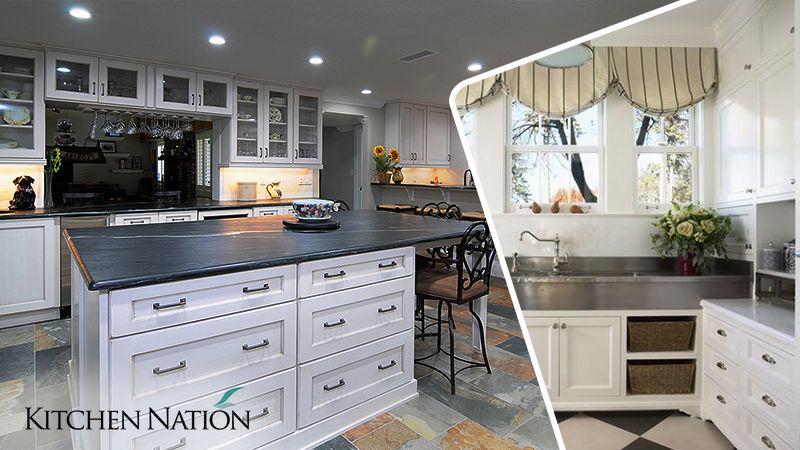 These cabinets derive their name from the Shakers, a group of extremely adept craftsmen known for their utilitarian carpentry. The appeal of these cabinets lies in their simplicity. They feature five-piece doors, light finishes, basic hardware and minimal adornments.
The Kitchen Nation team has years of experience crafting elegant and functional Shaker style cabinets. We understand how to build the cabinet that you need, for a price that fits your budget.
Shaker Style Cabinets can be easily customized according to the type of kitchen you have, whether it be traditional, transitional or modern. Out of the various styles we can design Shaker cabinets, hardwood cabinets are the most popular. The wooden cabinets we make can also be customized in terms of fittings and finishes.
Wooden handles and panels- For a simple no frills look, choose wooden panels, handles and knobs.
Veneer door panels –These panels add a protective layer to your cabinet.
Decorative edges- Traditional kitchens are generally less flashy. Adorning the Shaker cabinets with decorative edges however, lends the room a slightly embellished look.
Five-piece-drawer fronts – If you have a transitional kitchen, we can fashion a cabinet bearing five-piece drawer fronts.
Slab drawer fronts- Modern kitchens can look even smarter with sleek slab drawer front cabinets.
Painted finish- For a more contemporary look, you can opt for a painted finish.
Burnished finish- You can achieve an antique facade with a neat burnished finish to your painted cabinets.
Polyurethane finish – This type of finish gives additional protection to the wooden cabinets.
Besides the above hardwood cabinets, we can also build MDF (Medium Density Fibreboard) cabinets for your kitchen. Denser than plywood, MDF cabinets offer more strength, despite being more vulnerable to shrinkage in low humidity.
Our Shaker style cabinets are more than just kitchen furniture. It's art, meant to capture the attention of anyone visiting your kitchen. We are also determined to provide you flawless installation, and all at an incredible price.
Browse through our online gallery to get some kitchen cabinet design ideas. Our experts are there to help you decide what's best for your home. Talk to us for a free consultation.