Modern & Minimalistic Bathroom Designs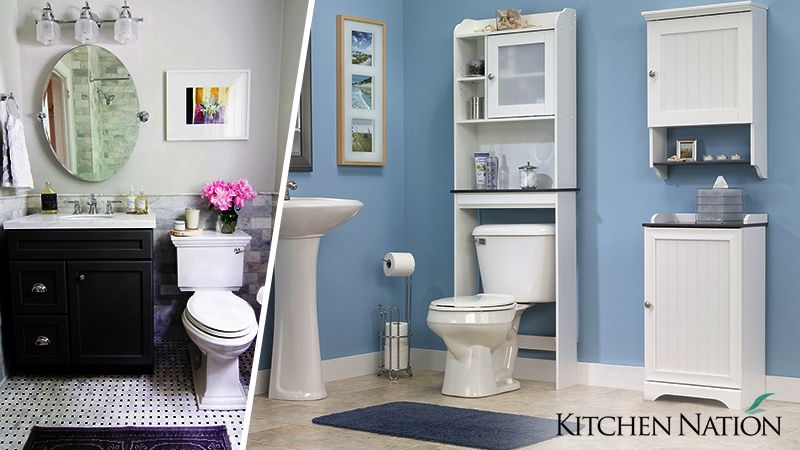 Minimalistic bathrooms are trending because they give you more room within a limited space allotment. Unlike traditional bathrooms, modern minimalistic bathrooms feature "least-clutter" style in their decor.
At Kitchen Nation, we design modern bathing spaces equipped with superb bathroom vanities. We blend function with aesthetic appeal and are careful that everything falls within your budget.
Our experts have great suggestions for an ideally minimalistic bathroom design.
More Organic Space: Keep personal items shelved and out of sight. There should be an outer cabinet to store toiletries and novelties.
Geometric Shapes: Go for squares and rectangles when you choose mirrors, showers and backsplash designs. Geometric shapes on tiles can also add to the mood you are trying to achieve with the space.
Rectangular Freestanding Bathtubs: Break the convention of oval bathtubs fixed to the floor, by bringing in a rectangular bathtub. Keep it freestanding for the ultimate contemporary style statement.
Simplistic Decors: Keep the decor mellowed with sleek wood and concrete elements bearing little embellishment. Put up floor-to-ceiling mirrors and modern paintings to flaunt refinement.
We Provide Modern Bathroom Vanities
Kitchen Nation experts are here to help you realize a luxurious modern bathroom based on your preferences. We offer a vast assortment of functional vanities fashioned for modern and minimalistic bathrooms. Brampton homes will now have access to finest bathroom designs at reasonable rates.
We Can Transform Bathrooms From Traditional to Modern
We are also specialized in complete bathroom renovation projects in Toronto, Brampton, Etobicoke, Mississauga and nearby areas. We are always careful with your budget. Kitchen Nation experts will always strive to provide you with an accurate quote when planning your shower room renovation.
Contact us for a free quote on bathroom design or renovation.