Custom Pantry Cabinets in Toronto, Brampton and Vaughan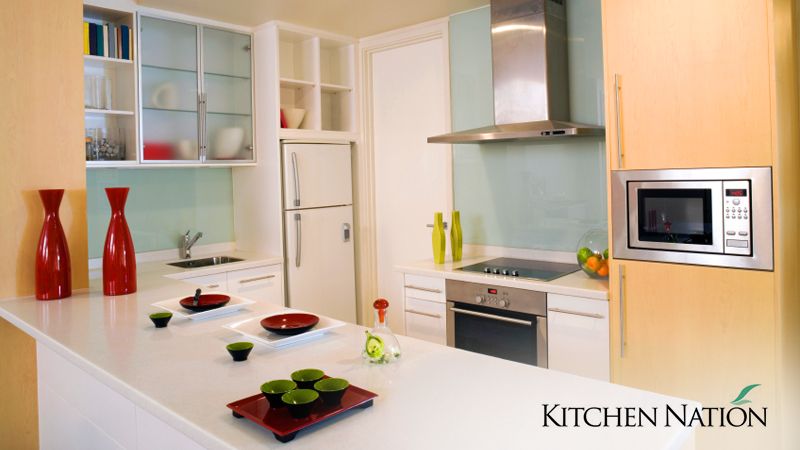 Having enough storage space in a kitchen is often an overlooked detail. However, it becomes important when small base cabinets get jammed with spices, condiments and canned goods. This is why pantry cabinets are a better option; they give you more storage space.
Finding and installing the appropriate pantry cabinets can be tricky. There's a lot of factors to consider if you want the most space optimization. Thankfully, Kitchen Nation experts can help you with measurements, design and installation of pantry cabinets.
Standard Sizes
Pantry cabinets are taller than base cabinets. Usually pantry cabinets are 84, 90 and 96 inches tall. Widths vary from 9, 12, 15 and 18 inches, depths range from 12 to 27 inches. With these pre-built sizes, you get a lot of options for your kitchen.
Custom Size
If pre-built sizes aren't convenient, Kitchen Nation can build custom pantry cabinets for your kitchen. Prioritizing your storage needs, we take precise measurements. Only after careful consideration do we design fully customized cabinetry for your kitchen.
Structure
There is a wide variety of standard designs, but additional pieces can be purchased and added without requiring permanent installation. We can customize the structure of your pantry cabinet, altering the number of shelves, doors, drawers and additional gadgets.
Position
If your kitchen is spacious, we can build a broad wall-spanning cabinet. The corner space is the least utilized area of the kitchen, so installing a pantry cabinet won't interfere with kitchen activities. Corner cabinet doors usually come with multiple hinges. We can get the doors custom matched to the rest of the décor.
Be it a modern kitchenette, a small rustic kitchen or a large traditional kitchen; we are there to build the best fitting pantry cabinet. Contact us for a free consultation or request a free quote.